Not Only A Man's World: Women Also Cross Borders
Keywords:
Seasonal migration, Yan Tabiradi, Border, Women, Hostesse
Abstract
The migrants from Niger Republic move into the neighboring Nigerian communities in numbers in search for greener pastures. Previously, research in the region has shown migration to be male dominated (Liman, 2021). However, a new wave of women participation was noticed hence the need for literature update. The study was conducted at Daura Local Government Area, Katsina state in Nigeria. The study area shares with Niger Republic a manned border at Kongolom and unmanned borders throughout the expanse of its several remote villages making the influx of both human and animal resources uncontrolled. Women, just like men move freely into the study area yearly. In order to understand the reasons behind the decision by these women to cross the borders, four (4) Focus Group Discussions were conducted with the 35 migrants using a checklist as a guide. Four (4) Key Informant Interviews (KIIs) also held with their hostesses. Qualitative data was therefore collected and reported in descriptive narration. The results of the FGD show all respondents were female within the age range of 12-56years. Some were married, some widowed, a good number divorced and the rest were spinsters. None of them had formal education but some had basic Islamic knowledge. They engaged in farming, post harvest activities, domestic chores such as cleaning, cooking and babysitting and others street begging. Findings reveal that economic gains were the major reason for coming to Nigeria. For some respondents, this is the first time of partaking in migration, others have had the joy of returning yearly thereby making them circular migrants. These ladies and others practicing this migration type are commonly referred to as 'Yan Tabiradi. Information gathered from the 3 of 4 of the hostesses, who were elderly women, all widowed and lived in 2-3 room houses explained that some migrants pay a token fee to stay (N150-N200 monthly/less than 50cents) for accomodation. The fourth hostess, relatively younger, entertained her relatives at no cost. Finally, it can be concluded that, women from southern Niger Republic do partake actively in short distance, seasonal, circular migration in parts of northern Nigeria. They come due to availability of work, a good network of family and friends that secure the work and accommodate them and also the ease of crossing the border.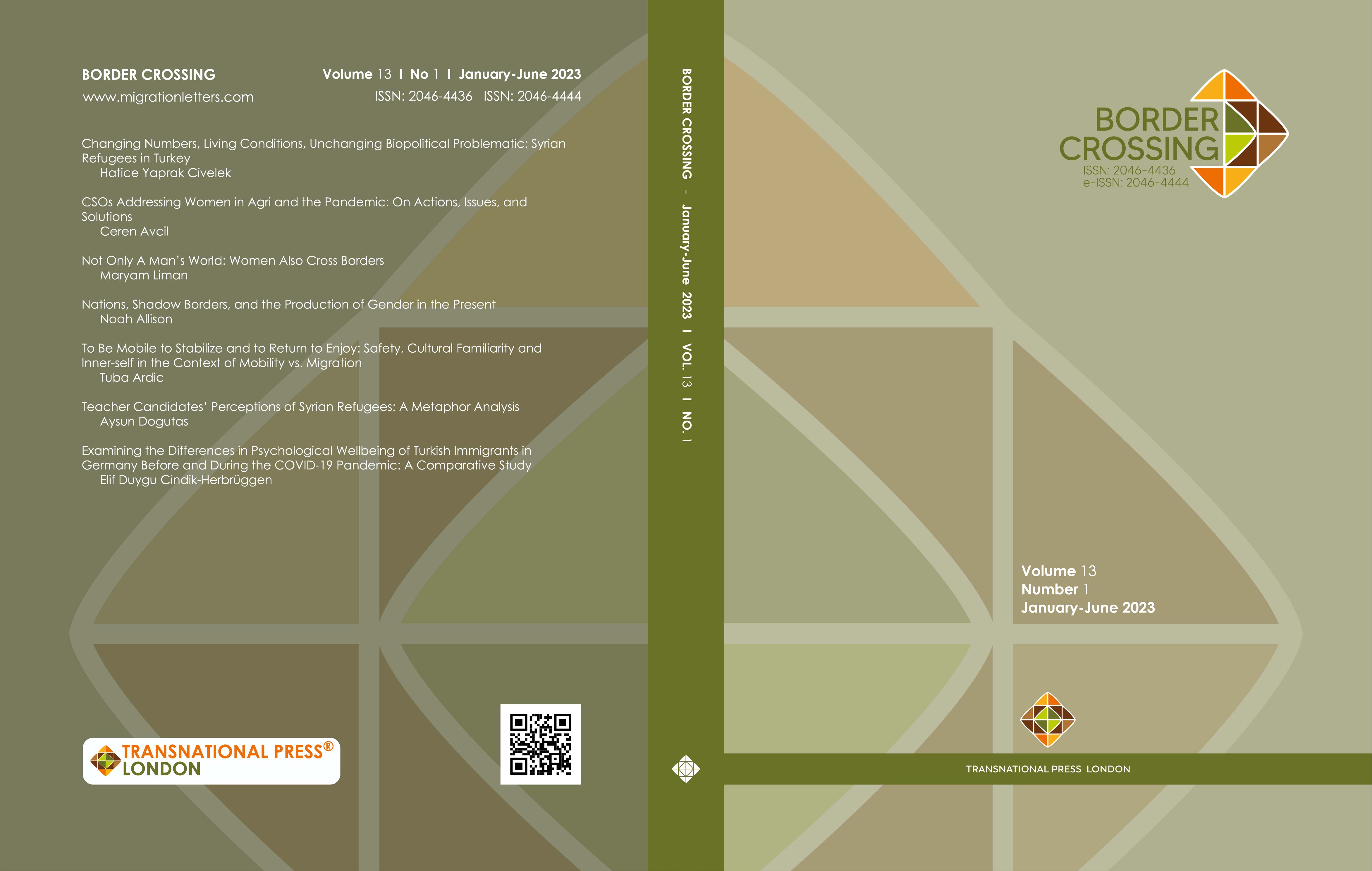 Downloads
How to Cite
Liman, M. (2023) "Not Only A Man's World: Women Also Cross Borders", Border Crossing. London, UK, 13(1), pp. 31–34. doi: 10.33182/bc.v13i1.2831.
License
CC Attribution-NonCommercial-NoDerivatives 4.0